MARC PORRINI GYOTAKU ARTIST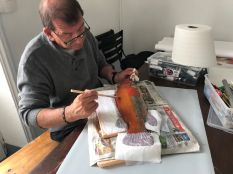 Marc Porrini is a watercolor artist originally from the East of France. His first acquaintance with Brittany, its fishermen and the ocean began some thirty years ago. Living at La Pointe du Raz for many years, he was charmed and fully inspired by its harshness and assets. He settled on the Quiberon peninsula in 2005. There he discovered Gyotaku, a confidential Japanese art and fulfilled himself in this art therefore developing a privileged relationship with the fishing world and Japan.
Indeed while reading a magazine on Brittany, he came across an article on the Gyotaku art illustrated with paintings of fish prints and in a first time he tried to reproduce the traditional direct method with watercolors.
In an exhibition at la Maison du phare in Port Haliguen, Quiberon, a Japanese tourist came up to him. His father was a fisherman and practised this tradition.
The encounter was decisive and Marc went to Japan to understand this art and its traditional process.
He worked on the indirect method with colored inks on fabrics like silk, cotton, polyester or paper (washi) with the Japanese Master Mineo Ryuka Yamamoto. And in 2016 in Japan Marc received from his hands the title of "Master" under the Japanese artist name of "Maruku".
In Osaka in 2018 Marc met Master Masatsu Matsunaga who practices, develops and teaches the direct method and today Marc works with this method in tight collaboration with the Master.
The last meeting led Marc to organize "Quiberon Gyotaku week 2019" the first international meeting of Gyotaku in Europe with Master Masatsu Matsunaga as guest of honor.
Marc is a member of the Academy of Arts and Sciences of the Sea and was awarded the medal of Arts, Sciences and Letters.
He is a registered member of La Maison des Artistes under the order number P872794
The workshop in Quiberon is now transferred to Rennes, 3 rue Victor Hugo, starting from November 15th, 2019.